Liposuction
Even with your best efforts, some pockets of fat simply may simply refuse to go away.
Dr. David Liland offers liposuction in Dallas as an opportunity to remove stubborn fat deposits and provide a leaner, more athletic figure.
Wondering what liposuction can do for you?
Liposuction Can Tone Your Figure
and Improve Your Confidence
Look Your Best
Even if you are healthy and active, you may still have stubborn fat deposits which resist diet and exercise. By undergoing liposuction with Dr. Liland, you can have the figure you desire.
See Immediate Results
Liposuction can provide immediate effects. While your results will improve with time, many patients see dramatic results as soon as they walk out of their procedure.
Feel Better about Yourself
Areas of unresponsive fat can make you self-conscious about your appearance. Liposuction can smooth and tone your figure so you can feel confident about how you look.
Liposuction Is a Highly
Popular Cosmetic Treatment
Can Liposuction Help If
You Have Already Lost Weight?
Whether you lost weight through surgery or diet and exercise, there is a good chance you still have pockets of fat tissue. If you have lost a significant amount of weight, you may also have sagging skin.
Liposuction is a good option if you only want to target stubborn leftover fat. However, it cannot address stretched, excess skin. For patients who have undergone massive weight loss, Dr. Liland typically recommends liposuction in conjunction with other body contouring procedures, such as arm lifts, breast lifts, or thigh lifts.
You Will Make a
Good Candidate If You:
Have Realistic Expectations
It is important to understand what liposuction can actually do for you before undergoing the procedure. At our Dallas office, Dr. Liland can discuss your goals and expectations with you to ensure liposuction is the right treatment.
Are at a Stable Weight
Liposuction is not a weight loss procedure. It is typically recommended for patients who are at a normal weight but have stubborn areas of excess fat that do not respond to traditional weight loss methods or exercise.
Are in Good Health
If you are undergoing liposuction, it is important that you do not have any serious medical conditions such as diabetes, heart disease, high blood pressure.
Fat Is Removed Permanently
during Liposuction
With liposuction, the fat cells are removed permanently from your body. In this way, the procedure can target unwanted lumps and bulges and create a smoother overall figure.
However, it is important to keep in mind that you can gain weight back, with new fat cells. These cells will typically affect different areas of the body than the areas treated with liposuction. Maintaining a healthy lifestyle can help you avoid weight gain.
Advanced Tools and Techniques
Make Your Treatment More Comfortable
Dr. Liland offers both traditional and tumescent liposuction for patients interested in targeting unresponsive fat deposits. Both forms use a slender tube, known as a cannula, to loosen and remove fat tissue.
However, with tumescent liposuction, Dr. Liland uses a special mixture of anesthesia to constrict blood vessels and cause the fat deposits to swell. This method allows us to eliminate fat more easily, meaning less trauma and a smoother recovery period.
Liposuction Is an Outpatient Procedure
Performed in Our Fully Equipped Operating Room
Sedation
First, we will administer local anesthesia and sedation to ensure you are comfortable throughout the procedure. A Certified Registered Nurse Anesthetist will then administer general anesthesia so that you remain asleep for the duration of the surgery.
Incisions
Dr. Liland will create a tiny incision near the area to be suctioned. Whenever possible, incisions are hidden within natural folds or contour lines of the skin.
Fat Removal
Dr. Liland will insert a small cannula though the incision. The tip is used to loosen the underlying fat and vacuum the tissue.
Closing the Incisions
Once your treatment is complete, Dr. Liland will close the incision using gentle techniques to minimize scarring.
Most Patients Recovery
within a Few Days
After your procedure, you should expect some degree of tenderness, bruising, and swelling. However, these side effects are a normal part of the healing process. You will probably feel tired and sore for several days after the liposuction procedure. However, within one or two days, you should be able to get up and move around. Within the first few weeks, the swelling will begin to go down. Bruising might appear and you may feel numbness on the areas suctioned.
Immediately following the procedure, you will be fitted with a compression garment to control swelling and help your skin to adjust to its new body contour. Any discomfort can be addressed with prescription medications and over-the-counter pain relievers. Dr. Liland will monitor your progress during your follow-up visits to our Dallas office.
What is Liposuction?
Liposuction is a procedure that can assist in having e a well-proportioned body by removing unwanted fat from specific areas, including the abdomen, hips, buttocks, thighs, knees, upper arms, chin, back, and even the neck. Liposuction is also known as Lipoplasty, Lipectomy or Liposculpture. Although liposuction is usually not intended as a weight-loss technique, it can remove stubborn areas of excess fat that do not respond to traditional weight-loss methods or exercise.
Liposuction can help boost confidence with appearance and self-esteem, but it will not necessarily change your looks to match your ideal. Liposuction can produce excellent results if one has unwanted lumps, bulges, and areas of fat that make certain body parts appear disproportionate.
Liposuction can be performed in conjunction with other cosmetic surgery procedures such as breast augmentations.
Initial Consultation for Liposuction
A personal consultation at Park Cities Plastic Surgery in Dallas is the very first step if you are considering liposuction.
During the consultation at Park Cities Plastic Surgery, Dr. David Liland will assess your physical and emotional health, discuss your expectations in regards to liposuction, and examine the skin for firmness and elasticity.
You will be able to discuss the areas in which you would like to see improvement, the incisions, and the risks involved with liposuction procedure.
At Park Cities Plastic Surgery, Dr. David Liland will be show several pre and post op pictures of liposuction.
Tumescent Liposuction:
A Less Invasive Alternative
Liposuction is an excellent way to eliminate unwanted fat deposits and achieve a smoother, more contoured look. However, while traditional liposuction is effective, many patients desire a more comfortable alternative. With this revolutionary treatment, Dr. Liland not only diminishes the uncomfortable side effects of liposuction, but also shortens the recovery time.
Tumescent vs. Traditional Liposuction
Traditional liposuction uses a slender tube to remove fat from specific body parts. The cannula is connected to a suction device and is inserted through an incision to reach the targeted areas.
Tumescent liposuction has a few key differences. The most significant of these is the type of anesthesia used. Our team makes a special mixture, composed of lidocaine, a local anesthetic, and epinephrine, which is used to constrict blood vessels. This fluid is then injected into the targeted area of the body. This not only reduces bleeding, but also causes the fat deposits to swell. This allows Dr. Liland to remove the fat much more easily, resulting in a smoother recovery.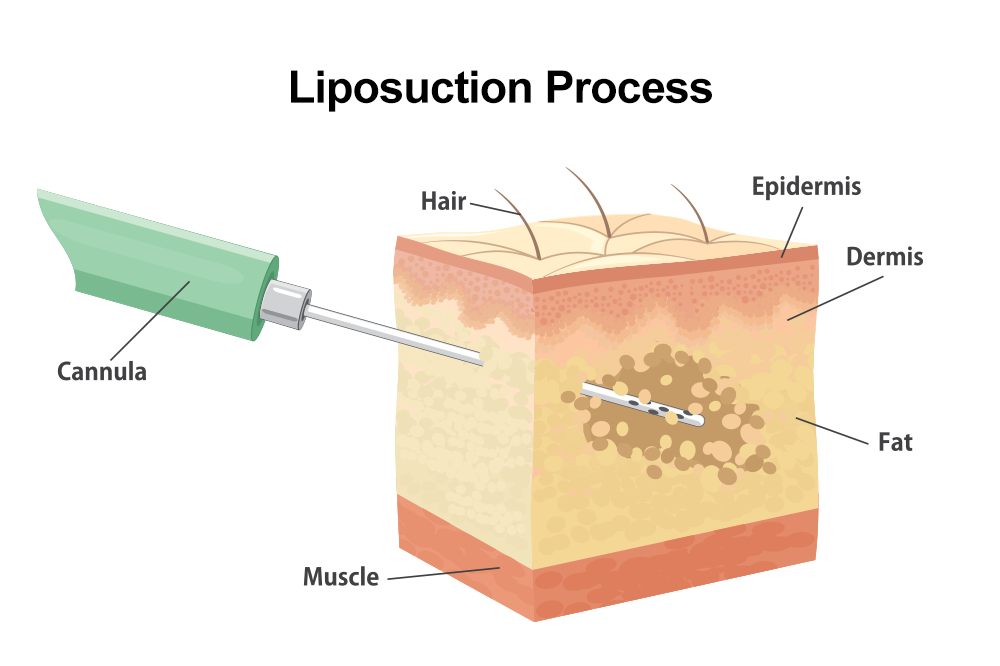 Benefits of Tumescent Liposuction
Tumescent liposuction significantly decreases the amount of post-operative bleeding, bruising, and swelling associated with traditional methods. It also reduces the amount of blood loss that occurs during the surgery itself. Post-operative pain is also reduced by a substantial margin.
Because local anesthesia is administered to the targeted areas, patients do not need general anesthesia to remain comfortable. As a result, they are less likely to struggle with nausea and vomiting after their procedure.
Understanding The Procedure
Prior to your appointment, Dr. Liland will make sure you understand the details of your surgery, as well as your post-operative guidelines and sedation options. Although tumescent liposuction does not require general anesthesia, some patients may opt for additional sedation to stay relaxed and comfortable during their procedure.
The steps of your procedure will include:
Local anesthesia: To begin the procedure, Dr. Liland will inject the specialized mixture into the targeted area of the body.
Incisions: Dr. Liland will make tiny incisions through which to insert the cannula.
Cannula insertion: Dr. Liland will then carefully insert the cannula through the incision site. It is not uncommon to feel a slight pinch when the cannula is placed.
Fat removal: Next, we will use a suction device to carefully remove fat deposits from the targeted area.
Stitches: Finally, we will close the incision sites with sutures. This will protect the surgical area and promote healing.
Pre & Post-Op Tips for Liposuction
Do no take any medication that contains aspirin, vitamin E, weight loss medication, or Chinese herbs for two weeks prior to the procedure. A complete drug list will be provided on your pre-op appointment date.
Arrange for an adult to drive you to and from your surgery. You CAN NOT take a taxi home. You must also arrange for an adult to stay with you for 24 hours after the procedure.
Do not smoke for at least two weeks prior to the surgery.
You will be fitted with a compression garment after surgery; you must wear this continuously for six weeks.
Driving is permitted after a few days, if not taking pain medications.
You may resume all normal activities after three weeks of the procedure.
Specific recommendations will be suggested when you arrive at Park Cities Plastic Surgery in Dallas.